Rowing is a great way to get fit with friends in a relaxed and scenic outdoor environment. We are the largest and most professional beginner/social rowing program in Australia. Our reputation is second to none and we put ourselves ahead of our competitors by ensuring quality equipment and coaching for all levels of rower involved in our programs! Our efficient operation minimises the inconvenience of carrying the boat which ensures you get to do what you came for – to row!
Our social rowing programs were officially established in February 2005. We have over 100 social rowers who row once per week. Most enjoy the luxury of not having to carry the boat to or from the water. This is one of the many benefits of our programs. All crews are guaranteed a cox, coach and great equipment at every session.
Participants only pay on a term by term basis. Please note that crews who rowed in the previous term have the right to retain their existing booking for the new term.
All crew bookings must be paid for in full within 7 days to confirm the booking.
Bookings
A limited number of crew (4) opportunities are available, both at our city and Studley Park Kew venues.
Call Matt Wilson on 0419 380 307 to book your crew in today.
City Sheds
Boathouse Drive, Melbourne
Studley Park Boathouse
Boathouse Road, Kew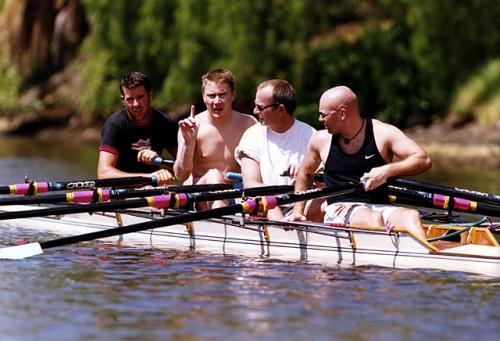 Our most famous participant
Even the great Finnish F1 racing driver MIKA HAKKINEN (2 time World Formula One Champion) learnt to row on the Yarra River, under the guidance of Matt Wilson. This was back in March 2001 prior to his final assault on the Australian Grand Prix at Albert Park.
Rowing with his manager Didier Coton and his personal trainer (who has been with him since the crash that nearly took his life), the crew (with Matt in bow seat) didn't take long to get the hang of it.
Matt says that even the world champion was a bit nervous when he first got into the boat, but settled in quickly once he realised there was little chance of going for a swim.
Mika used the session to get rid of the jet lag from his long flight. He wanted a change from going to the gym.
learn2row – enrol today
Make cheques payable to:
learn2row Pty Ltd
PO Box 3202
Victoria Gardens, Vic, 3121
Call Matt for more info on 0419 380 307
Rowing is the ultimate team building opportunity.
Call Matt Wilson on 0419 380 307 to discuss a personalised rowing program for your work colleagues.
New Zealand Masters Rowing Championships
The 2013 New Zealand Masters Rowing Championships were held on 21-22nd September at Twizel on the South Island in the Mackenzie Basin at Lake Ruataniwha. (ROO-AAH-TAR-NEE-FAR)
Situated only 40mins from the base of Mt Cook (Aoraki) the venue is surrounded by glacial lakes (turquoise in colour) and beautiful snow capped mountain ranges. The region is also highly rated as a fishing mecca with an endless supply of Rainbow and Brown Trout and free range Atlantic Salmon cruising the many Canals and Lakes. Proof is in the pudding so I've included pics below of two of the four fish I caught in a thirty minute session at sunset.
The main picture below is looking back at the finish line, side on to the course with the Southern Alps in the background. Scroll down to see several photos from the 2013 trip.
Each year this event alternates between the North and South Island.
In 2014 the event will be held at Lake Karapiro on the North Island.
Situated nearby to the township of Cambridge which is "a large Daylesford like town" Cambridge is regarded as the equine capital of New Zealand. Producing Olympic Equestrian Champions, Melbourne Cup winners, Harness Racing champions etc…
Why not double up in 2014 by spending time between rowing races by purchasing the next VRC Derby winner…