VISION
Our vision is to take rowing to places it has never been.
MISSION STATEMENT
We aim to provide quality coaching and equipment to
every standard of rower in the wider community.
Participation is the key and we aim to please!
Matt Wilson
Matt Wilson began teaching people to row at Melbourne Rowing Club (MRC) back in 1998.
Since then:
Director of Rowing – Genazzano FCJ College 2001 – 2007
Director of Rowing – Loreto Toorak 2007 – 2008
Director of Rowing – Ruyton Girls' School 2008 – Current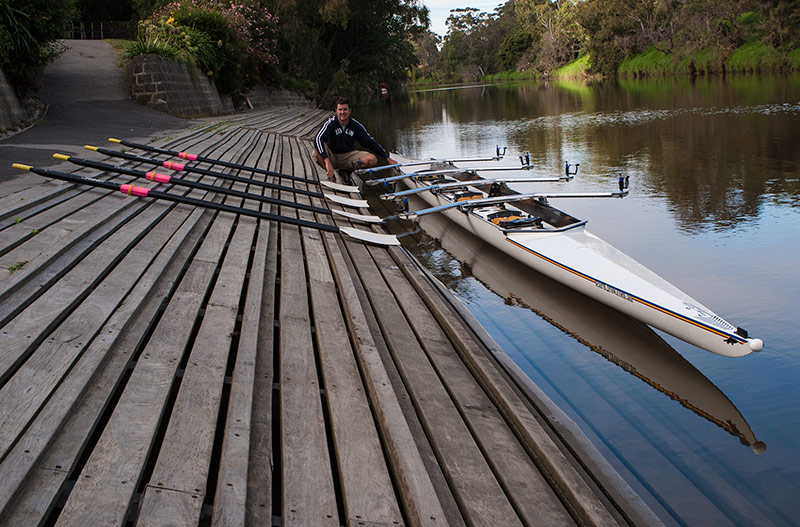 The Maiden Voyage
The "learn2row.com.au" (the boat) had its maiden voyage on the Yarra River on Tuesday March 8th 2005.
Under the guidance of Matt, the crew of Karen Saunders, Robyn Daniel, Alison Weber and Trish Dvorscek set off after a small glass of champagne in absolutely perfect rowing conditions.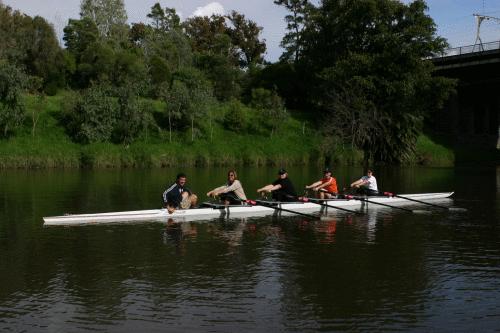 Coaching
All of our coaches are Rowing Australia qualified and provide excellent tips on improving your crews rhythm, balance, contrast and boat speed.
We love teaching first timers who have never been in a boat before and seeing their passion for the sport grow as they improve each week.
We gaurantee quality equipment and a qualified coach at every session.
We specialise in quad scull rowing (2 oars per person) as it is a more natural and healthier way to row because it works both sides of the body equally, unlike sweep rowing (1 oar per person) which tends to develop one side of the body.
We are well aware that not everyone wants to go fast so our coaches always ask what it is that your crew is hoping to achieve whilst out on the water.
Participation is the key and we aim to please.
Feedback
If you are happy with our services we ask that you tell your friends.
If your not happy, we ask that you tell us.
We appreciate all feedback and ideas and you can notify us of your thoughts by emailing us at learn2row@optusnet.com.au
"a Sunday morning row followed by breakfast in Richmond justifies the early morning and helps clear the hangover".
"Healthy exercise, incisive instruction, state of the art boat, and the joy of team work in a magnificent river setting that few people in this city get to see. It would have to be good to get 4 blokes out of bed every Sunday morning at 7am….and it is!"
"Enjoying the rowing – earnt my first blisters last Saturday"
"Social rowing is a fabulous opportunity to get out on the water with some friends and have a great time while staying fit"
"Can't believe the extra energy I have after only 3 weeks of Social Rowing."
"I've loved learning to row so much, …the calm waters, the mist rising from the river, why wouldn't you be addicted? You've got me hooked!"
"A great fun time for family bonding."
"Matt having been involved in 'Mad Regattas' for several years I thought we had a handle on rowing!! However I am amazed at how far you have taken us since starting the 'social' rowing program. Its great, the smoother we get… the more enjoyable it has become."
"Through social rowing I have come to learn that rowing is truly 'brains over brawn'. It gives me the opportunity to know what my daughter has learned in her school rowing programme. A great sport. I would recommend social rowing to all rowing parents".
"I love social rowing on Sunday mornings. Rowing is a new sport for me, which I find very challenging mentally, a great physical workout, a chance to catch up with friends and great fun. It's also shown me Melbourne from a completely new perspective, from the river, which has been beautiful through summer and autumn. I want to continue through the winter months, so Matt, just wondering about the heating arrangements".
"Forget the gym and the boring ergo, rowing in the "learn2row" is the way to go. Social rowing is great – it's easier than the gym, less frustrating than golf and more fun and entertaining than any other fitness endeavour !!"
"I had always longed to row on the Yarra River, but I had no experience or opportunity; Learn2Row changed all of that. Under the patient guidance of rowing coach, Matt, I have now learned to row and I belong to a great crew. We, four girls row once a week and have a great workout, while listening to the bellbirds!
Best of all, we have sooo much fun…
Matt, thank you so much for the opportunity"
"Social rowing is a great way to start the day, along with the ducks, bellbirds and mist on the water! It has been the most relaxing way to exercise – get fit and unwind all in one.